About Good Promotional Products
Thank you for shopping with Good Promotional Products!
Good Promotional Products is an innovative and exciting promotional products company, headquartered in Pittsburgh, Pennsylvania. We provide Promotional Products to everyone in the USA. Our company was started to provide you with premier promotional products, personalized to advance your company above the competition. Our online promotional product store offers you thousands of great promotional products to choose from, including items that can be custom ordered with your company brand or logo.
We strive to keep our web content as current as possible with the most exciting and innovative promotional products available on the market today. We work hard to meet all your needs, and we believe that our hard work in searching out the best, most affordable promotional products offers you the best source for quality products and innovative new ideas.
We work hard to analyze the industry, making certain that our customers are getting the best prices and the best products. At Good Promotional Products, we firmly believe that an innovative, proactive approach to our business is the best way to gain an advantage over our competition. At Good Promotional Products, the customer comes first!
Why Buy Promotional Products? Because They Work!
If you've used promotional products before, you know their power. If you're new to promotional products, you're right to make them part of your marketing strategy. Research has shown time and again that promotional products work.
Successful companies know that promotional products offer you many advantages that may not be available in other media such as:
Instant Recall- Your customers will remember your organization long after the item has been received. Eight (8) out of 10 respondents remembered the advertisers of the promotional product they received.
Repeated Exposure- You'll make a lasting impression because of the long length of time that your promotional product item is kept and used.
Favorable Impressions- Customers who receive your promotional items are likely to come away with a positive, favorable impression of your organization, resulting in an increased probability that they will do business with you.
Increase Business- Most respondents (62%) have done business with the advertiser on a promotional product after receiving the item.
User Friendly- The majority (81%) of promotional products were kept because they were considered useful.
Staying Power- More than three-quarters of respondents have had their promotional items for more than six (6) months.
Bag It!- Among personalized wearables, promotional bags, especially tote bags, were reported to be used most frequently with respondents, indicating that they used their bags an average of nine (9) times per month. They also deliver the most sightings. Each promotional bag averages 1,038 sightings per month.
Low Cost, High Impact - The average cost per sighting of an advertising specialty item is $0.004. As a result, marketers get a more favorable return on investment from advertising specialties than nearly any other popular advertising media.
It's Time To Get Your Company Logo Noticed and Recognized
The main purpose of promotional products is to get your company logo noticed and recognized by potential clients. Unlike traditional forms of advertising, promotional items allow you to put your name on tangible, everyday products. This increases brand familiarity and boosts your company's overall reliability in the eyes of the customer. The more your target audience sees your brand on promotional products, the longer the memory of doing business with your company will stay with them. This ultimately will lead to a stronger brand identity, which will help retain previous customers and also attract new ones.
So what are you waiting for? Give Good Promotional Products a try! You can rest easy with our customer satisfaction guarantee. Ordering is easy. Just give us a call or e-mail us at info@goodpromotionalproducts.com, and let's start shopping.
Featured Item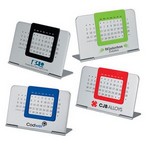 Perpetual Desk Calendar
Perpetual calendar with colorful slide that can be used year after year. Folds flat for shipping. 5 1/2" W x 3 1/2" H x 1/4" D